BOX - ROUTINE [THE BASIS OF THE BEARD]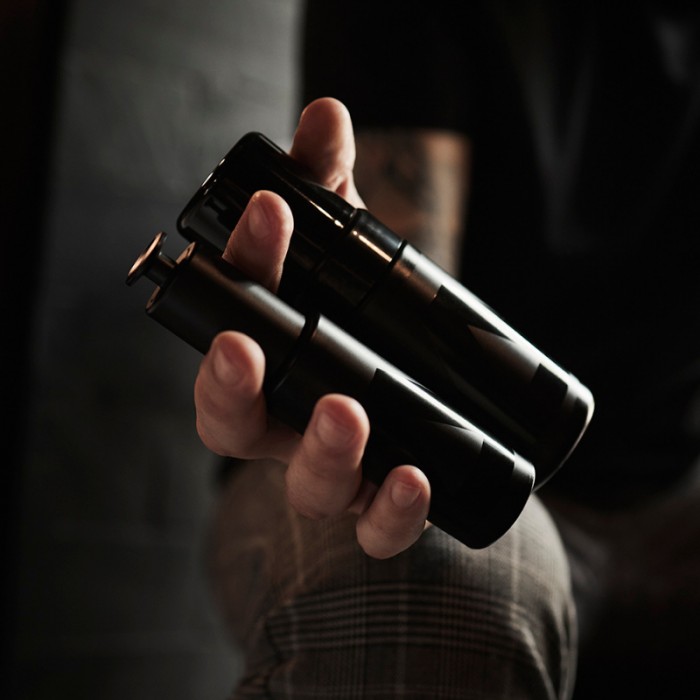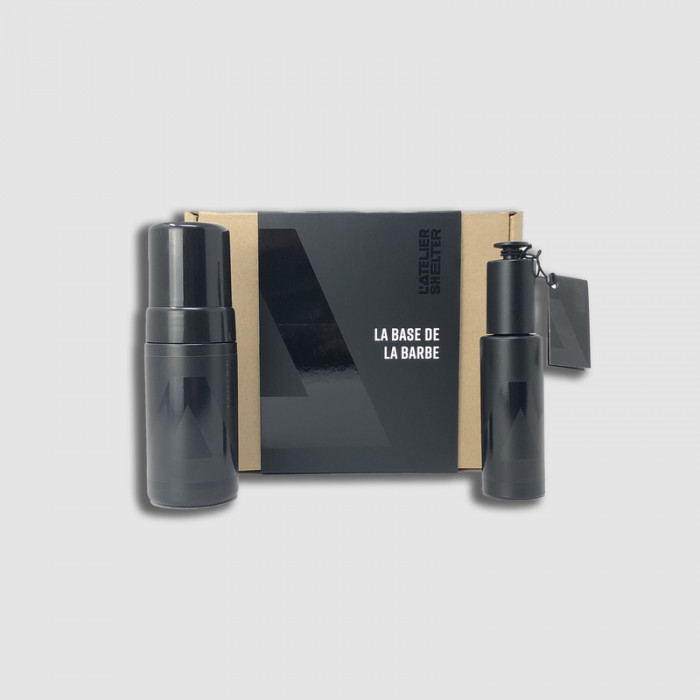 BOX - ROUTINE [THE BASIS OF THE BEARD]
- Leave-in Beard Cleansing Foam: Cleans, purifies and refreshes the facial hair and skin under the beard. Gives a clean, well-groomed look and prevents "rough" hair by softening the beard.
A true beard shampoo in 30 minutes, anywhere. That's sophistication!
- Beard Moisturising Oil: Nourishes, moisturisers and protects facial hair and the skin under the beard using the powerful active ingredients in organic castor oil and the mix of seaweed contained in the oil. Gives a well-groomed appearance and avoids the feeling of "rough" hair by softening the beard.
Basically, it gives you a healthy, comfortable and stylish beard... and that's cool!
In a word, a clean, healthy and comfortable beard (that looks good!).
Medium and long beards: A routine especially dedicated to men with beards who want the basics, without fuss!
- Detoxifying, , to deeply revitalise and regenerate the skin ... thank you Rhodella micro algae! 
- Non-oily, thanks to a specific oil formulation which doesn't make facial hair or skin shine.  
- Fresh Effect for an extremely fresh sensation... you'll love it!
- Subtle and fresh fragrance , with a hint of bergamot, but discreet enough to wear with your your favourite fragrance or eau de toilette.
- Clean formulation : 98% natural No Rinse Beard Cleansing Foam, 98% Moisturising Beard Oil, vegan, refillable, Yuka friendly and made in France.
- Refillable: : Refillable glass bottles with to the Beard Moisturising Oil Refill..
- Extract of Argentière Glacier Water: rich in calcium and silicon, strengthens the skin's natural barriers. Protection guaranteed. French origin.
- Extract of Arctic seaweed: Concentrated vitamins and minerals with amazing detoxifying powers for facial hair and skin! French origin.
- Rhodella Violacea Micro Seaweed: particularly effective in stimulating the synthesis of hyaluronic acid and helping skin regeneration. French origin.
- Organic castor oil: provides the beard with all the vitamins and nutrients it needs to grow healthily, while deeply moisturising the skin. A real asset! Asian Origin.
- Extract of Edelweiss: a natural anti-inflammatory product, especially effective for calming irritated and sensitive skin. Pure magic for itching! French origin..
- Mix of seaweed: particularly rich in essential fatty acids, with nourishing, soothing and anti-oxidant properties.98% French origin and 2% Icelandic origin..
In addition, we take care not to use sulphates, phthalates, parabens and other nasty ingredients of this kind.
1 – Beard Cleansing Mousse [No Rinse] :
When you need to clean, squeeze a little mousse into your hand then apply to the beard massaging into the skin well. The mousse will slowly be absorbed and disappear, leaving a clean, fresh feeling.
This takes 30 seconds, is pleasant and refreshing and gives your beard a boost! 
A 100ml bottle of no rinse beard cleansing mousse lets you clean your face once a day for at least a month. (of course, depending on the length of your beard!)
2 – Moisturising Beard Oil :
Drip 2 to 3 drops into the hand with the pipette, rub the oil between your hands to warm it up a little and spread well, then apply to the beard, massaging deeply into the skin. Do this morning and evening.
This takes 30 seconds, is comfortable and will change your life!
A 30ml bottle of beard oil will look after your beard day and night for 1 or 2 months. (of course, depending on the length of your beard!)
When the bottle is empty simply refill it with Eco-refill Moisturising Beard Oil
An ecological and economic pack in a striking design!
The moisturising beard oil comes in a 30ml matte black lacquered glass bottle that's refillable with the 60ml soft pouch eco-refilll.
Benefits :
Ecological : less waste, reusable bottle.
Economical : refill price = €0.65/ml vs. bottle price = €0.97/ml – a 32% saving.
Beard Cleansing Mousse [No Rinse]
Aqua (Water), Polyglyceryl-3 Cocoate, Caprylyl/Capryl Glucoside, Polyglyceryl-6 Laurate, 1,2-Hexanediol, Caprylyl Glycol, Menthol, Menthyl Lactate, Parfum (Fragrance), Maris Aqua, Butylene Glycol, Sodium Gluconate, Potassium Sorbate, Glycerin, Limonene, Propanediol, Citric Acid, Linalool, Citral, Saccharina Latissima Extract, Sodium Benzoate, Hydrolyzed Rhodophyceae Extract
Moisturising Beard Oil
Helianthus Annuus (Sunflower) Seed Oil, Prunus Armeniaca (Apricot) Kernel Oil, Octyldodecyl Myristate, Undecane, Ricinus Communis (Castor) Seed Oil, Tridecane, Parfum (Fragrance), Caprylic/Capric Triglyceride, Limonene, Menthol, Menthyl Lactate, Tocopherol, Linalool, Citral, Leontopodium Alpinum Flower/Leaf Extract, Ascophyllum Nodosum Extract, Crithmum Maritimum Extract, Fucus Vesiculosus Extract, Laminaria Saccharina Extract, Plankton Extract, Ascorbyl Palmitate 
LAS-24