PRECISION SHAVING GEL
90 ml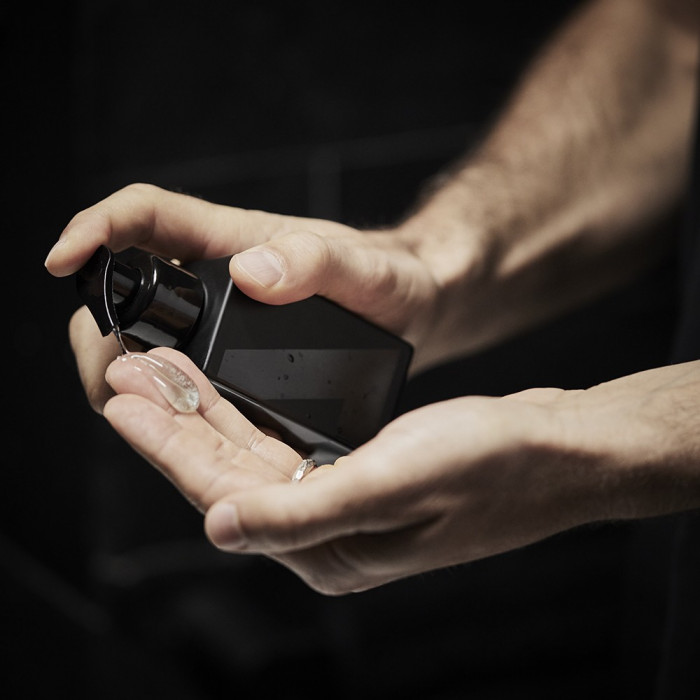 PRECISION SHAVING GEL
90 ml
Psst no stress, when your bottle is finished, refill it with an eco refill
PRECISION SHAVING GEL...
110 ml

- Protects the skin as the blade or trimmers slide over it and prevents razor burn.
- Soothes and moisturises, leaving the skin more supple, and without redness or tightness, thanks to the active ingredients Rhodella micro algae and extract of Argentière Glacier water. 
All in all, this shaving gel gives you clean shaven sophistication (or a perfect beard outline), while preventing the harmful effects to the skin of shaving!
- Close shaven: no surprise, this shaving gel is made for you! Note that it's ideal for hand razors (blades), as well as for trimmers... and especially recommended for sensitive skin.
- Short beard: a lethal weapon to outline the beard with precision thanks to its transparent gel texture.
- Medium and long beard: : as with short beards, the shaving gel is perfect to shape each beard hair. And we know how important it is to not miss a millimetre when it comes to trimming your facial hair.
- Transparent gel texture, for beard hair precision! 
- Doesn´t run : We've made sure that the gel is thick enough while being sufficiently fluid, so it stays on the skin. In short,, ultra simple use and super effective protection! 
- Detoxifying , to deeply revitalise and regenerate the skin ... thank you Rhodella micro algae! 
- Fresh Effect a fresh sensation... a real treat;)
- Subtle and fresh fragrance e, with a hint of bergamot, but discreet enough to wear with your your favourite fragrance or eau de toilette.
- Clean formulation : 97% natural, vegan, refillable, Yuka friendly and made in France.
- Refillable : Refillable glass bottle with eco-refill.
- Extract of Argentière Glacier Water: Rich in calcium and silicon, strengthens the skin's natural barriers. Protection guaranteed. French origin.
- Extract of Arctic seaweed: Concentrated vitamins and minerals with amazing detoxifying powers for facial hair and skin! French origin.
- Rhodella Violacea Micro Seaweed: particularly effective in stimulating the synthesis of hyaluronic acid and helping the skin regenerate. French origin.
In addition, we take care not to use sulphates, phthalates, parabens and other nasty ingredients of this kind..
Wet the skin with warm water then apply a dab of shaving gel to the areas to be shaved. Leave the gel on the skin for 30 seconds to prepare it for shaving. Shave with a razor or trimmer and rinse with cold water. Then feel the cooling Fresh Effect sensation permeate your face and senses.  
A 90ml bottle of Shaving Gel gives you a complete shave once a day for at least a month, and lets you shape your beard once a day for at least a month and a half.
When the bottle is empty simply refill it with Eco-refill PrecisionShaving Gel
An ecological and economic pack in a striking design!
The shaving gel comes in a 90ml matte black lacquered glass bottle that's refillable with the 110ml soft pouch eco-refill..
Benefits :
Ecological : less waste, reusable bottle.
Economical : refill price = €0.26/ml vs. bottle price = €0.43/ml – a 39% saving
Aqua (Water), Glycerin, Inulin, Polyglyceryl-3 Cocoate, Caprylyl/Capryl Glucoside, Carbomer, Polyglyceryl-6 Laurate, Sodium Hydroxide, 1,2-Hexanediol, Caprylyl Glycol, Maris Aqua, Butylene Glycol, Sodium Gluconate, Xanthan Gum, Potassium Sorbate, Parfum (Fragrance), Propanediol, Citric Acid, Limonene, Sodium Benzoate, Linalool, Saccharina Latissima Extract, Hydrolyzed Rhodophyceae Extract
LAS-3